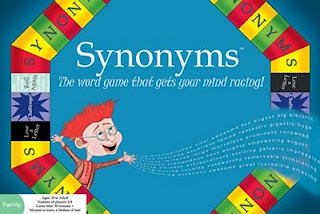 Homeschoolers and teachers will love this one, plus any of you word fiends will enjoy it as well. It is Synonyms from Lindergaff Publishing.
How To Play
The basic idea of the game is to name synonyms for words. Your points are earning each of the letters in the word SYNONYMS, the first one to spell it wins. It is a very simple idea, but more challenging than what you would think.
Roll the die, move your pawn, pick the corresponding card color and then name as many synonyms for that word as you rolled on the die. They have 3 levels of word cards: green (easy), yellow (medium), and red (hard). On the back of each card is a list of synonyms so the other players can judge if the player in turn is giving correct answers. There are also Challenge and Pass cards to use during the game.
Overall Game Design
I was pleasantly surprised when I received the game. The overall graphic design, colors, and quality is incredible and on-par with any popular game like Monopoly.  All of the cards are coated and you can expect the game to last for many years of use.
| | | |
| --- | --- | --- |
| | WORD | SYNONYM ANSWERS |
| Green Card | Funny | absurd, amusing, antic, bizarre, blithe, capricious, curious, diverting, droll, entertaining, facetious, farcical, gay, good-humored, hilarious, hysterical, jocular, jolly, knee-slapping, laughable, merry, mirthful, mysterious, queer, silly, strange, unusual, whimsical, weird, witty |
| Yellow Card | Break | bankrupts, burst, bust, crack, crush, damage, destroy, discontinue, flatten, fracture, fragment, mangle, rest, ruin, rupture, separate, shatter, smash, wreck |
| Red Card | Abbreviate | abridge, abstract, clip, compress, condense, contract, curtail, cut, encapsulate, lessen, narrow, down, pare down, prune, reduce, shorten, summarize, trim, truncate |
Summary
This is a great learning game. The recommend age is 10+ and I think that is reasonable. You can adjust the game with the different colored cards as needed as well. For example, just play with all green cards if you need the game to be a little easier. You can also play as individuals or in teams. Team play can really work well in a classroom setting – it would be easy to get the entire classroom to play with just one game board.
Overall, I think you'll benefit with a game like Synonyms in the home. The more your student or child can understand word relationships, the more equipped they will be to comprehend different reading passages.
Also, in reviewing Amazon.com you'll note that most of the reviews are 4 and 5 star, with very few ratings below that.